How to Profitably Trade this Most Popular Futures Contract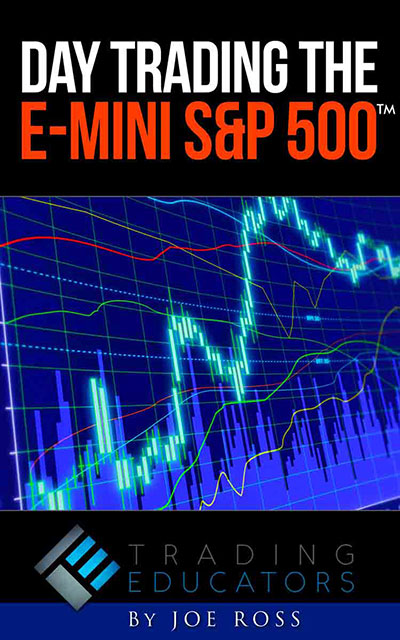 "Day trading the E-Mini can be a full-time career for any trader; if you are going to day trade, you may need nothing more than the E-Mini. In this EBook I show you a better, most sensible approach to day trading the E-Mini, based on my own trading experience."
~ Joe Ross
Message from Joe Ross
The E-Mini has become the premier market for day trading by retail traders. Day trading the E-Mini can be a full-time career for any trader. Let me teach you what I teach most of my students, especially those who purchased my webinars or come for private tutoring. Most of the students who have learned my techniques and methods for day trading the E-Mini S&P 500 futures have become profitable E-Mini day traders.
For the most part, all you need is a set of charts. These days I use no technical studies for trading this market. By the third or fourth bar inclusive of and following the opening, you can sit back to enjoy the fantastic trading patterns made by the E-Mini as it marches towards its session close. I reveal these secrets in the EBook.
Highlights
Preparation – the key to your success
Just how do you prepare each day to day trade the E-Mini? What steps do you take to get ready for when the market opens? What are the early considerations and what should you be looking for? There is a process of making morning observations on different timeframe charts. I've included many charts to show you exactly what I look at, and how I make all the preparation. Then I show you how to put yourself in the "market movers'" place and to start thinking like they do when they are in the markets. The most amazing thing is that you will be able to read and "see" through the charts, and answer for yourself the most important questions of all - "What are the big guys going to do? Where are they going to move prices?" After answering these questions, all you need is to have healthy expectations and sound trade management.
Expectations – your right mindset is crucial
I dedicated this e-book to traders who like to day trade the E-Mini S&P 500, but I start it with a word of caution: I've seen too many otherwise good traders destroyed by trading the five-minute chart in S&P mini. Getting into the mini is like stepping into the ring with a rattlesnake: you can be bitten quickly, and when you least expect it. You will learn to understand what is going on in the markets. As a small trader, you will know when the large traders move prices and how to take advantage of their move. You will know when to stay away and when to trade. You will learn to form healthy expectations from each day and each situation. I teach you these aspects by showing lots of charts.

Chart reading, trade selection, and trade management
Just look at the charts below: why did someone get long as shown? The reality is that during the intraday session, the price movement has nothing to do with the laws of supply and demand. There are completely other reasons why prices move as you see in the charts below, and you are going to find out exactly what they are.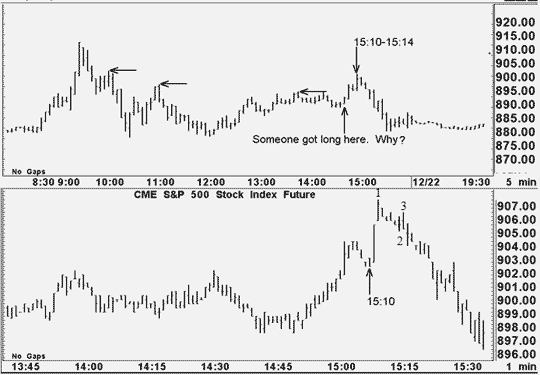 I give you several examples so that you realize that trading with the short term charts also requires making decisions quickly. You'll have plenty of examples of preparation for the trading session, entry signals, and trade management. You'll also learn why you don't have to trade too often and too much, especially when trading the E-Mini.
People talk all the time about money management, but is that the only kind of management involved in trading the E-Mini? Definitely not, which is why I will show you precisely how to micro-manage your E-Mini trades: how to set objectives and how to set your protective stops, including how to know when you should exit immediately. You'll also discover why trade selection is in large part responsible for success in trading the E-Mini.

Timing is everything - the morning and the rest of the day
You will learn when you should trade the E-Mini in the morning, and when you should come back to trade in the afternoon. Just ask yourself "How do I measure the morning range? And once the morning trading is over, what about the rest of the day? What do I do when markets become slow? Really, what are the best hours to trade the E-Mini?" What about the reality of electronic trading that offers you fills in a matter of split seconds? Are you aware that no matter how fast you receive your fills, there are traders who are being filled 1,000 or more times faster than you are? Does it make a difference to your trading? You will find all these questions answered, and the answers will greatly benefit your trading.

Trading without indicators
Do you need indicators to trade the way I do? You don't see any indicators on the chart below, do you? You will see exactly how I trade without them. When you understand how I trade, you may never need or want them again.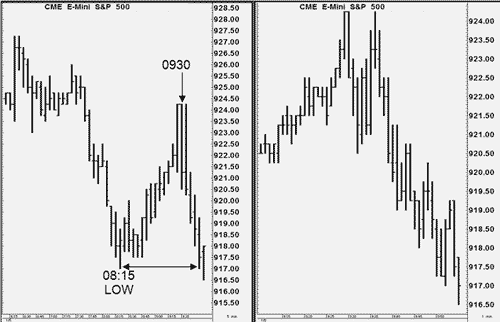 Commonly asked question
What's the difference between the Day Trading book, the Day Trading E-Mini S&P 500 EBook, and the Day Trading Forex EBook?
The Day Trading book is a full-sized textbook that is loaded with lessons, examples taken from real trades, and reveals many concepts to succeed at trading. The Day Trading E-Mini S&P 500 EBook teaches you how to day trade in almost any market, along with some concepts that go beyond what is in the Day Trading book, and focuses specifically on the E-Mini S&P 500. The Day Trading Forex EBook teaches concepts that are not in the other two products; it can be used in a variety of markets, but focuses on Forex.
Make what you learn in the "Day Trading the E-Mini S&P 500" your own!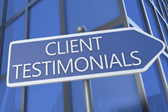 "Joe, I'm very glad that you spent the time to write a new actualized book on how to day trade the E-Mini. It reveals new insights on how to analyze that market and especially important on how to manage the trade properly. In my opinion it's a very helpful supplement to your hardbound Day Trading Book you wrote some years ago. I read all your books you wrote in the past regarding trading futures and I never regretted it. In fact, I learned so much from it I'd never had learned anywhere else. So, your eBook is no exception - great insights and extremely useful for becoming a successful trader. That eBook isn't for the shelve but really for the daily use on my trading desk!"
~ Stefan N., Germany
"Joe's approach is simple, straightforward and, most of all, it works. I've taken the same approach and applied it to forex and it works! I've purchased all of Joe's trading books and have never regretted a single purchase."
~ Chris H., Japan
"It's good solid information...just as you would expect from Joe."
~ Alan B., France
"Just fabulous! Thank you so much Joe. After 3 years of trading, I'm finally coming out of the wilderness. I now understand exactly where I was going wrong. SO simple, but yet so difficult to see without Joe's help."
~ Eloise G., Australia

$127.00
Day Trading the E-Mini S&P 500™ EBook
Digital Delivery Via E-Mail
Download for Windows Users Only, No Mac Users
Orders Filled Within 24-Hours*
All Sales Final on Digital Products
*IMPORTANT: After we manually verify your order, you will receive an e-mail containing your download information. Your order will be fulfilled within 24-hours during our regular business hours. If you have not received your download infortmation by that time, please contact us via e-mail This email address is being protected from spambots. You need JavaScript enabled to view it. or phone: +1-512-249-6930 (Ross Trading), so we can resend it to you. Please check your junk/spam folder before you contact us.