Master Trader Joe Ross shows you how he does it!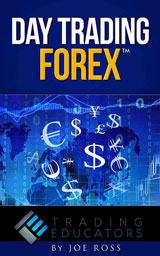 "I hate to see so many aspiring Forex traders losing their money. Why do they have to make everything so complicated when, in fact, it's not at all hard to win? In this eBook I show you trips and traps of Forex day trading. You need to know them in order to avoid the fate of so many other traders." ~ Joe Ross

$127.00
Day Trading Forex
eBook
Message from Joe Ross
I've been trading Forex for many years, even before there was such a thing as retail Forex, and before more and more people decided to become Forex traders. Trading Forex is heavily marketed and popular, but it is also deadly. The correspondence I receive attest to the fact that most people who attempt to day trade Forex are losing their money. The turnover rate is atrocious. Because of the pain I've seen, I decided that I will show you how I day trade the currency pairs.
Learn where to find more safety in your trading, and where the greatest Forex profits are made. The Day Trading Forex EBook gives you detailed answers to vital questions, such as knowing which currency pairs to trade, which time frame to use, and where to set your profit-taking objectives and your protective stop.
Day Trading Forex highlights, and what you can learn:
Chart Reading – The Law of Charts
You will learn to identify the basic formations of The Law of Charts: what they are, what they mean, and how to trade them in the Forex market. You will see how I trade the Ross Hooks and consolidations. I reveal a fantastic way to implement The Law of Charts (TLOC), namely the Traders Trick Entry (TTE), together with simple ways of using it in your trading.
I always like to remind traders that "a chart, is a chart", and Forex charts are no different from any other kind of chart. Forex charts show you human emotional reaction to the movement of prices. It's the same as with stocks or futures charts. As they say, "a picture is worth a thousand words." On that basis, you are going to find many thousands of words in this eBook. It will truly help you to understand and implement The Law of Charts in your trading.
Identifying Consolidations and Finding Trends
Are you aware that currencies trade sideways 85% of the time? Do you know how to make money when they are doing just that? Please take a look at the chart below: do you know what it means when prices have formed as between the two red lines below?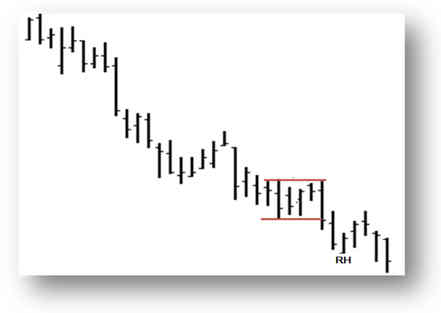 You will find the answer to that question, and many more. It is vital to recognize congestions at the earliest possible time. In fact, you'll see how to identify sideways markets before anyone else realizes they are beginning to consolidate. In order to do that, the book has been "loaded" with graphic examples.
Your Own Trading Plan
Please look at the chart below: do you know why someone sold at the red arrow and someone bought at the white arrow? You will find out why in a fascinating way, through the help of a single graphic representation. You will discover precisely where to have your entry order, what your initial objective should be, and where to best place your protective stop.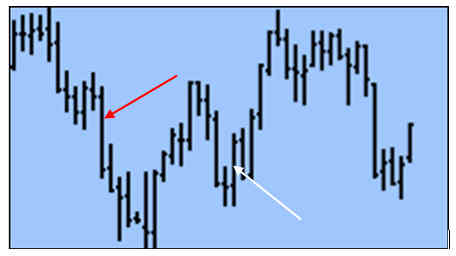 You will learn to set up your own trading plan simply by using price charts, and with almost no indicators. The ones used will greatly help you in filtering and managing your trades, but your main focus will be on the price action as seen on the chart. Charts will also help you figure out which pair to trade, and which time frame best fits your comfort zone.
Trade Management and the Costs of Running your Trading Business
It is not only risk management that you need to know about in order to successfully day trade Forex. You will learn other aspects of management, things that most traders ignorantly ignore. For example, you will learn how business management, risk management, trade management, and personal management are all part of the picture, not just money management. This information alone will save you thousands of dollars. You need to know the concepts and the realities of how a "bucket shop" operates, about the leaning and skewing of prices, as well as the myths of "free streaming data" and the "guaranteed fills". It's all true, as will be explained to you. You will also see that Forex trading is not without heavy overhead in the form of the spread you pay to trade. You will discover the most important things you need to know about Forex regulation and brokers.
Commonly asked question
What's the difference between the Day Trading book, the Day Trading E-Mini S&P 500 eBook, and the Day Trading Forex eBook?
The Day Trading book is a full-sized textbook that is loaded with lessons, examples taken from real trades, and reveals many concepts to succeed at trading. The Day Trading E-Mini S&P 500 eBook teaches you how to day trade in almost any market, along with some concepts that go beyond what is in the Day Trading book, and focuses specifically on the E-Mini S&P 500. The Day Trading Forex eBook teaches concepts that are not in the other two products; it can be used in a variety of markets, but focuses on Forex.
Take your forex trading performance up to the next level with Day Trading Forex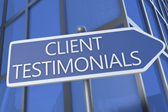 "Joe's Day Trading Forex book has been an invaluable source of information about the most traded market in the world. I got not only the proper way to trade this market with plenty of example and clear explanations but also how to create good habits to become a profitable trader. Truth is together with this book and Daytrading Joe's book I have been trading smarting and my account has benn growing since then slowly but surely."
~ Johnny A., USA
"I have been following the Joe Ross method for years. At one time I owned my own day trading firm and taught his method to my traders. Many used it successfully, others used their own method. The EBbook is very detailed and when followed gives you a direct, set of plans that you can write down and consistantly use."
~ Michael H., USA
"EXCELLENT practical outline of trading forex using the raw mechanics of the market (price action, order / flow, participant overview) coupled with proactive analysis, trade management, entry and exit techniques). Most notably, it works!"
~ George P., Australia
"I feel confident with the material because of Joe's age and experience in the market. I also feel his material is very simple to remember and apply in my daily reading of the market."
~ Steen N., Denmark
"As usual, another great work about markets, in this case Forex. Joe discovers new ways to trade Forex market, to manage risk and stablish profits."
~ Carlos L., Spain
"Joe as usual has great insights about the trading process. They're different from other run of the mill trading products or services."
~ Eugene T., Singapore

$127.00
Day Trading Forex
eBook
Orders Filled Within 24-Hours*
All Sales Final on Digital Products
*IMPORTANT: After your order has been verified, an email will be sent within 24-hours during our regular business hours containing your access information. Please contact us if you did not receive our email. Be sure to check your junk/spam folder before contacting us. All sales are final.