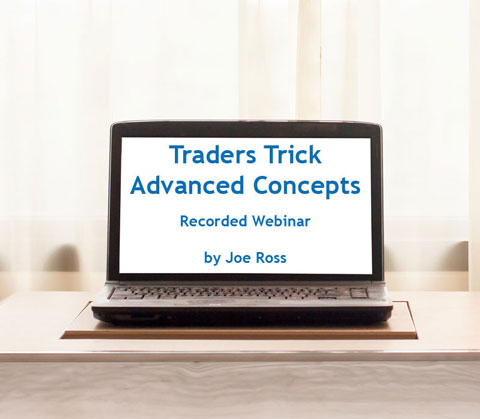 This is totally unlike any other trading concept we have ever encountered. Most traders, if they have something that works, do everything possible to keep it a secret. Knowing that if too many other traders start doing the same thing, the method or concept will stop working. A known fact, the Traders Trick works better and better as more people use it, is entirely foreign to anything else in the market.
Traders Trick Advanced Concepts
Recorded Webinar
1 Hour 52 Minutes
For many years, Trading Educators has given away the information about the The Law of Charts (TLOC) and Traders Trick Entry (TTE). Many have used it to their benefit, but many have failed to see the real value of the Traders Trick.
Those who have read the Traders Trick description are missing out on the finer points of the Trick. Over the years, and with extensive feedback from successfully trading students, the Traders Trick has evolved far beyond what is available in the free Traders Trick information when you sign up to receive our weekly Chart Scan Newsletter.
Properly trading and understanding the refinements is allowing some traders to achieve winning results that bring them winners as often as 90% of the time.
"The Traders Trick – Advanced Concepts" will show you how to use the TTE as one of your greatest tools and set-up.
Benefits:
Learn when to use the TTE and when not to use it.
Learn dramatic ways to filter TTE entries.
Learn how the TTE coupled with momentum can give many additional trades — trades you might not have ordinarily taken.
Learn when to take profits when trading the TTE.
Learn the right way to manage a TTE trade.
Learn the difference between a "good" TTE and a "bad" one.
Learn the entire rationale of how Joe Ross trades the TTE. (Can you ask for a better teacher than the trader who invented the TTE?)
Learn why knowing how to trade the TTE is changing formerly losing traders into winners. There are now traders who earn their entire living with the TTE.
Take advantage of the incredible knowledge contained within the Traders Trick Entry.

$247.00
Traders Trick Advanced Concepts
Recorded Webinar
1 Hour 52 Minutes
Orders Filled Within 24-hours*
All Sales Final
*IMPORTANT: After your order has been verified, an email will be sent within 24-hours during our regular business hours containing your access information. Please contact us if you did not receive our email. Be sure to check your junk/spam folder before contacting us. All sales are final.