Traders Trick Advanced Concepts - Recorded Webinar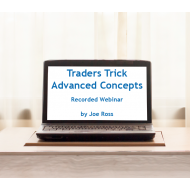 "The Traders Trick Advanced Concepts." In it you will learn how to use the TTE as one of your tools, very likely your greatest trading tool and set-up.
IMPORTANT: After we manually verify your order, you will receive an e-mail containing your access information. Your order will be fulfilled within 24-hours during our regular business hours. If you have not received your e-mail containing the access information by that time, please contact us, so we can resend it to you. Please check your junk/spam folder before you contact us.