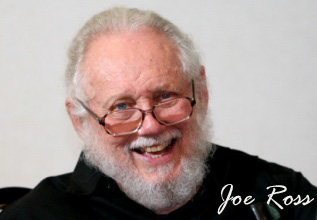 Joe Ross
Educator for Option Selling Strategies
and Creator of Instant Income Guaranteed

Earn while you learn to trade with no losses!
Can you imagine discovering a way to trade that promises instant income and carries a money-back guarantee that you will not suffer a loss? If you think such a method is impossible, think again.  With Instant Income Guaranteed trading education it is definitely achievable, and everything you need to know is available online for one low price in a special two-part online webinar followed by two months of daily guidance.
Instant Income Guaranteed provides stock trading courses for beginners and experienced traders alike. Developer and Master Trader Joe Ross along with Expert Instant Income Trader Philippe Gautier have spent the last several years perfecting a way to earn instant guaranteed income.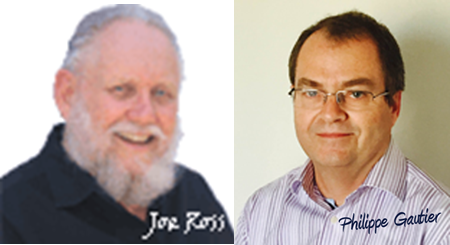 The strategy has four primary benefits:
Wealth building over time (requires patience)

Opportunity to create current income

Utilize other people's money to finance your growth

The highest level of safety we have ever seen
With Instant Income Guaranteed, Joe Ross and Philippe Gautier review and supply the following:
Two-part webinar – In Part I, Joe Ross outlines the strategy. Beginning and experienced traders will discover new information! In Part II, Joe Ross walks you through various trades and scenarios. In just a few hours you will be prepared for actual trading, which can begin as soon as you feel ready. As an added bonus, these webinars are available to access anytime you want to view again.

Two-month guidance period – Philippe Gautier provides day-by-day guidance for two months from the time you begin the course. Trades will be suggested for your consideration. You do not have to take any of the trades; however, you will begin to understand that even with a small account your money can begin to compound. Everything you need to know will be revealed in the webinars and this guidance period.
Money-back Guarantee – Trading Educators guarantees you will not lose any money as long as you take only the trades offered and manage them according to provided instructions. However, if at the end of the two months of training you have lost more money than you have made from taking the suggested trades and managing them as instructed, you will receive a full refund of your webinar fee.

Daily Report and Weekly Podcast – available before the market opens, Philippe Gautier provides:

Daily fills (entries and exits)

Daily market commentary (indices/sectors, volatility indices, main commodities related to our trade)

New trades for the following day

Comments on open trades, with all relevant news

Updated earnings for open positions

Full real-time statistics of weekly trades, closed trades for the current month, monthly statistics (detail and summary) since the beginning of Instant Income Guaranteed

Full details (days in trade, days to expiration, underlying close and price change, etc.) on open trades (classic trades, complex positions, remaining rolled trades and covered calls)

Active "good till cancelled" orders

Dividends for any stocks owned

Access to Continued Daily Guidance (CDG) – you may prefer to continue receiving daily trades after completing your two-month guidance period rather than venture out on your own. Continued Daily Guidance is available to you for $99 per month or at a low annual price of $600 ($50 per month).
After completing the Instant Income Guaranteed trading education, you will know
How to select the right stocks for uncovered option selling.

How to manage the trade.

How to compute returns on both margin and principal, and how to annualize your returns.
Option selling trades vary. Learn strategies to manage them.
Trades offered for your consideration will range from around $20 to around $100, sometimes a bit more per share.  Trades available at each price vary; however, it is possible to create one or more positions daily, provided you have sufficient funds.

Most brokers require a margin of 20% of the cost needed to buy 100 shares per option sold. It can vary. For example, one known broker requires margin of only 15% on accounts over $100,000.
The length of trades varies. Most trades will last as long as six weeks, some less.  Others will last two months or more. During the two months of daily guidance, you will see why certain options are sold, and you will realize that if handled properly, you will probably never have to buy shares of the stocks for which you have sold uncovered options.

You should be able to follow the strategy using any stockbroker. If you need a broker referral, Trading Educators can recommend one.
IMPORTANT!  If you intend to participate in the program using an IRA or any controlled pension plan, there are two things you need to know:
You may be required to put up full margin on all transactions.  However, don't worry about that, because even with putting up full margin, the strategy makes much more money than you can get from your bank, a money-market mutual fund, or from government bonds and notes.

You may have to receive permission from your broker to make the transactions from an IRA account.  Some have told us they are able to trade the strategy from their private pension account.
Philippe Gautier shares an Instant Income Guaranteed profit-taking example!
PCG Trade
On 24th Jun 2018 we gave our Instant Income Guaranteed subscribers the following trade on Pacific Gas & Electric Co (PCG), after the breakout of the point 2 of a 123 Low. Price insurance could be sold as follows:
On 25th Jun 2018, we sold to open PCG Jul 20 2018 35P @ 0.475 (average price) , with 25 days until expiration and our short strike about 18% below price action.
On 5th July 2018, we bought to close PCG Jul 20 2018 35P @ 0.20, after 10 days in the trade for quick premium compounding.
Profit: 27.50$ per option
Margin: 700$
Return on Margin annualized: 143.39%
Philippe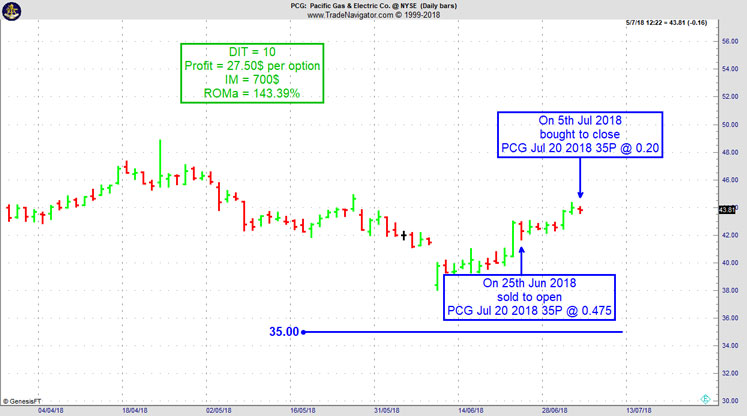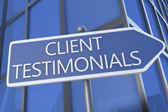 "About a year ago, I traveled down to Uruguay and spent a week with Joe doing his [Instant Income Guaranteed] seminar. Since that time, I was able to quit my regular job and now I trade full time. I couldn't have asked for a more amazing experience and I am thankful for the kind of lifestyle I can have without a 9 to 5."
~ Paula T., U.S.A.
"Hi Joe, Instant Income Guaranteed training has been, by far, the best investment in trading I have made (and believe me there has been some earlier investments…)
I can strongly recommend this training to people who are not looking for unnecessary excitement but rather want to make money steadily by trading the way Joe teaches.  My warmest thanks to you, Joe!"  ~ Juha Y., Finland
"The strategy was nicely explained and demonstrated on daily guidance podcast every working day. Joe explained some other important issues (psychology, when and why to take profit, how to deal with the deal when you under fire - roll out and down). During the 2 months daily guidance I had no loss. I find it very useful." ~ Petr Oliva, CZ
 "It's been around a year since I enrolled in the [Instant Income Guaranteed] program. Probably the best "trading" decision I have ever made. It is amazing the annualized return you can produce if you keep flipping your money. I have taken shares on a couple of stocks because I chose to do so, I don't consider that a loss."    Thanks, Randy C.



$2,900.00
Instant Income Guaranteed
Includes 2-Months of Daily Guidance!
Special Webinar and Workshop

Two Months of Daily Guidance

Guarantee

Viewable on Windows and Mac
This webinar is not supported by the following systems:
Windows XP, Mac OS 10.6 and Windows Server 2003
Continuing Daily Guidance for those who have completed the webinar and workshop.

At the end of two months, some of our customers prefer to continue receiving their daily trades rather than venture out on their own.  This service is called Continued Daily Guidance (CDG). CDG is available to you for $99 per month or select our super savers discount at a low annual price of $600 ($50 per month).
*IMPORTANT: After we manually verify your order, you will be sent an e-mail containing a Non Disclosure Agreement that you will need to sign and return to us.  After we have received the signed Non Disclosure Agreement, you will receive a second email with access information. The initial email with the Non Disclosure Agreement will be sent within 24-hours during our regular business hours.  If you have not received the Non Disclosure Agreement by that time, please contact us via e-mail  This email address is being protected from spambots. You need JavaScript enabled to view it. or phone: +1-512-249-6930 (Ross Trading), so we can resend it to you. Please check your junk/spam folder before you contact us.