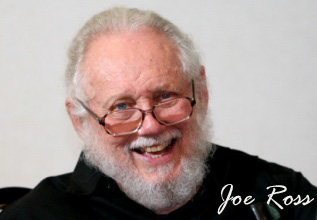 Joe Ross
Educator for Option Strategies
and Creator of Instant Income Guaranteed
Earn while you learn to trade!
Can you imagine discovering a way to trade that promises instant income? If you think such a method is impossible, think again. Instant Income Guaranteed trading education it is definitely achievable, and everything you need to know is available online for one low price in a special three-part online webinar followed by two months of detailed guidance.
Instant Income Guaranteed provides stock trading courses for beginners and experienced traders alike. Developer and Master Trader Joe Ross along with Expert Instant Income Trader Philippe Gautier have spent the last several years perfecting a way to earn instant guaranteed income.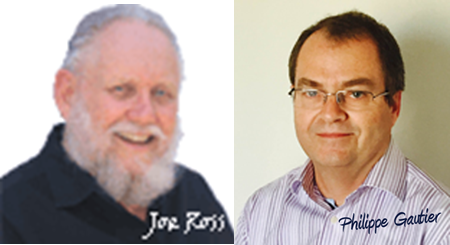 The strategy has four primary benefits
Wealth building over time (requires patience)
Opportunity to create current income
Utilize other peoples money to finance your growth
The highest level of safety we have ever seen
With Instant Income Guaranteed, Joe Ross and Philippe Gautier review and supply the following:
Three-part webinar - In Part I, Joe Ross outlines the strategy. Beginning and experienced traders will discover new information! In Part II, Joe Ross walks you through various trades and scenarios. In Part III, Philippe Gautier explains updates and improvements to the strategy. In just a few hours, you will be prepared for actual trading, which can begin as soon as you feel ready. As an added bonus, these webinars are available to access anytime you want to view again.
Two-month guidance period - Philippe Gautier provides detailed guidance for two months from the time you begin the course. Trades will be suggested for your consideration. You do not have to take any of the trades; however, you will begin to understand that even with a small account your money can begin to compound. Everything you need to know will be revealed in the webinars and this guidance period. After your two-months expires, continue trading on their own since Joe Ross gives you all the resources needed or they continue to receive Philippe Gautier's detailed guidance for a low cost month-to-month or annual subscription. It's up to you!
Philippe Gautier's detailed guidance provides:

Fills (entries and exits)
Market commentary (indices/sectors, volatility indices, main commodities related to our trade)
New trades
Comments on open trades, with all relevant news
Updated earnings for open positions
Full real-time statistics of weekly trades, closed trades for the current month, monthly statistics (detail and summary) since the beginning of Instant Income Guaranteed
Full details (days in trade, days to expiration, underlying close and price change, etc.) on open trades (classic trades, complex positions, remaining rolled trades and covered calls).
Active good till cancelled orders
Dividends for any stocks owned

Access to Continued Detailed Guidance (CDG) - you may prefer to continue guidance after completing your two-month guidance period rather than venture out on your own. Continued Detailed Guidance is available at a low subscription price for $99 per month.
After completing the Instant Income Guaranteed trading education, you will know:
How to select the right stocks for the strategy.
How to manage the trade.
How to compute returns on both margin and principal, and how to annualize your returns.
Option trades vary. Learn strategies to manage them.
Trades offered for your consideration will range from around $20 to around $100, sometimes a bit more per share. Trades available at each price vary; however, it is possible to create one or more positions daily, provided you have sufficient funds.
Most brokers require a margin of 20% of the cost needed to buy shares per option sold. It can vary. For example, one known broker requires margin of only 15% on accounts over $100,000.
The length of trades varies. Trades average 17 days, but some trades may last longer During the two months of guidance, you will see why certain strategies are used, and you will realize that, if handled properly, you will be trading profitably.
You should be able to follow the strategy using any stockbroker. If you need a broker referral, Trading Educators can recommend one.
What if I only have $10,000 to trade?
Yes, you can do it, but you will be limited in the number of positions you will be able to take initially, the time for you account to grow. However:
You can always "paper trade" what does not fit you account size: we recommend not to take positions exceeding 50% of your available cash in terms of underlying value. For instance, if you sell 1 XYZ 10P, with an underlying value of 10*100 = 1000$, do not sell more than 5 puts (or 50% of 10 000$ = 5000$) initially.
You can probably take all debit spreads trades we give from time to time
There are ways to limit margin requirements for the trades you take by buying cheap protection (i.e. buying a further out of the money put that will limit your margin requirements/total risk in the trade)
IMPORTANT! If you intend to participate in the program using an IRA or any controlled pension plan, there are two things you need to know:
You may be required to put up full margin on some of the strategies. However, don't worry about that, because even with putting up full margin, the strategies make much more money than you can get from your bank, a money-market mutual fund, or from government bonds and notes.
You may have to receive permission from your broker to make the transactions from an IRA account. Some have told us they are able to trade the strategie from their IRA account.
Joe Ross and Philippe Gautier bring you proven trading expertise!
Instant Income Guaranteed
Includes 2-Months of Detailed Guidance!
Philippe Gautier shares an Instant Income Guaranteed profit-taking example!
AMAT (Applied Materials Inc) Ratio Spread Trade
With ratio spreads, we gladly accept our short strike to be challenged:
our breakeven price is lower than our short strike (by the amount of the spread width + our initial credit)
this is our maximum profit zone at expiration and we therefore stand a chance of making more than our initial credit
On 6th April 2022, we entered AMAT May 06 2022 +115P/-2*110P for a credit of 1.10 per 1*2 spread.
We could exit half of our position at 0.05 on 20th April 2022, and the second half for a debit of 0.60, i.e. 60$ more than our initial credit.
Overall our annualized return on margin was 106.10% with very low maintenance and a very low emotional level owing to the present volatility and market uncertainty. Our average profit was 137.50$ for an initial credit of 110$.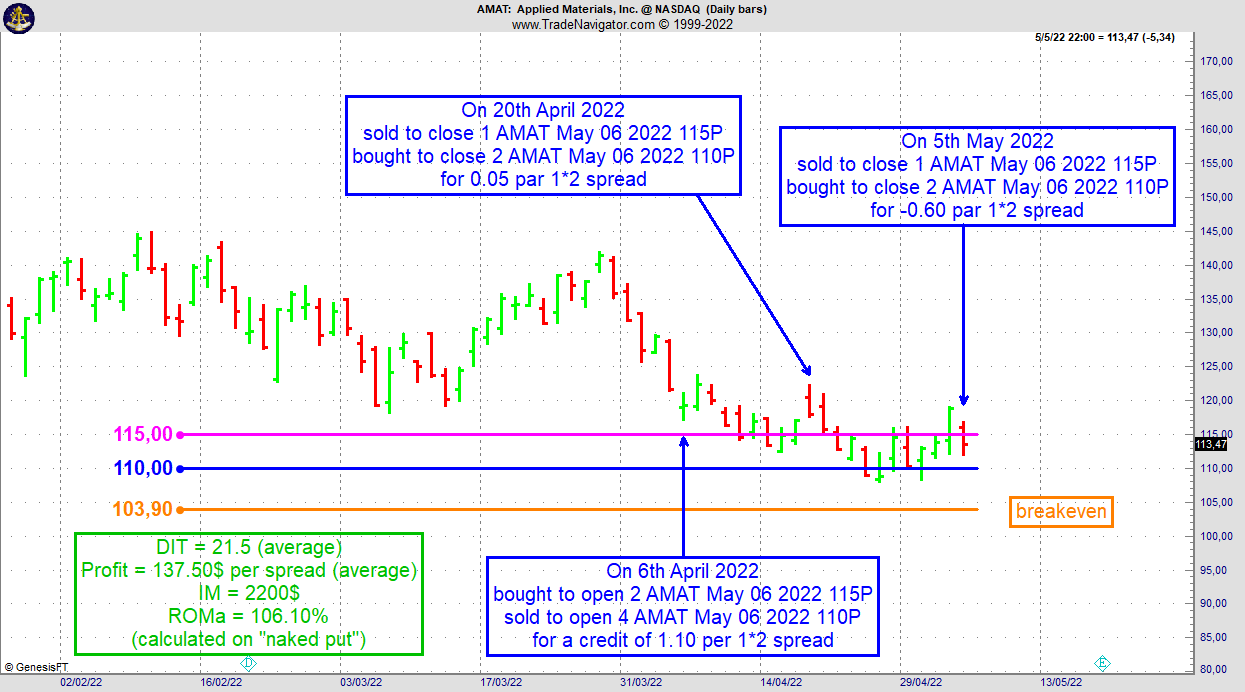 Receive detailed trade recommendations - we do the research for you.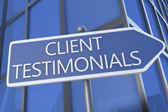 "About a year ago, I traveled down to Uruguay and spent a week with Joe doing his Instant Income Guaranteed seminar. Since that time, I was able to quit my regular job and now I trade full time. I couldn't have asked for a more amazing experience and I am thankful for the kind of lifestyle I can have without a 9 to 5." ~ Paula T., U.S.A.
"Hi Joe, Instant Income Guaranteed training has been, by far, the best investment in trading I have made (and believe me there has been some earlier investments...). I can strongly recommend this training to people who are not looking for unnecessary excitement but rather want to make money steadily by trading the way Joe teaches.  My warmest thanks to you, Joe!" ~ Juha Y., Finland
"The strategy was nicely explained and demonstrated on daily guidance podcast every working day. Joe explained some other important issues (psychology, when and why to take profit, how to deal with the deal when you under fire - roll out and down). During the 2 months daily guidance I had no loss. I find it very useful." ~ Petr Oliva, CZ
"It's been around a year since I enrolled in the Instant Income Guaranteed program. Probably the best trading decision I have ever made. It is amazing the annualized return you can produce if you keep flipping your money. I have taken shares on a couple of stocks because I chose to do so, I don't consider that a loss." ~ Thanks, Randy C.
Instant Income Guaranteed
Includes 2-Months of Detailed Guidance!
Special Three-Part Webinar

Two Months of Detailed Guidance

Detailed Q&A
Continued Detailed Guidance for those who have completed our Three-Part Webinar.
At the end of two months, traders start trading on their own since Joe Ross' provides all the resourses you need or continue to receive Philippe Gautier's guidance.  This service is called Continued Detailed Guidance (CDG) and is available at a low subscription price for $99 per month.
*IMPORTANT: After payment has been confirmed within 24 hours, an email will be sent with instructions on how to access IIG to begin your learning. If you did not receive an email, please check your junk/spam folder before you contact us.