"AMBUSH" A MARKET OF YOUR CHOICE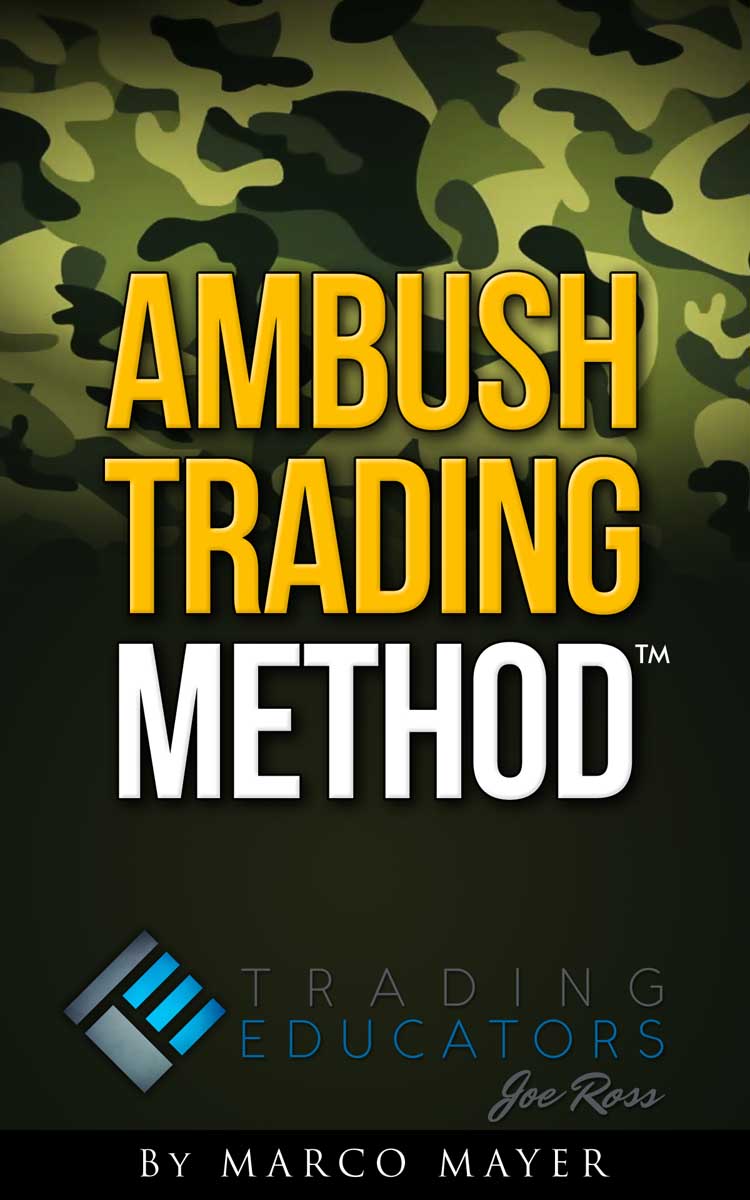 Ambush many stock index futures, commodity futures, currency futures, forex pairs, or CFDs markets


Systematic Trader Marco Mayer, our in-house quant-trader has come up with a safer and easier way to trade a large variety of markets, with the potential of locking in a steady stream of profits.
The Ambush Trading Method™ was launched in 2009. It's proven itself in many different market conditions since then, not only in backtests, but also in forward-testing.
Ambush supports a variety of markets, including:
Futures: Stock Index, Commodity, Currency, and Interest Rates
Spot Forex Markets
CFDs on any of the supported markets (results may vary, depending on your broker's quotes)
Ambush is based on Daily charts, so there is no need to sit in front of a screen to watch all day. When the market you want to trade opens, you place your limit entry order and your protective stop, and you go on about your business. You will always close your position on the same day you entered the market. This means there's no overnight risk, and depending on your broker, this can make a huge difference in relation to margin requirements.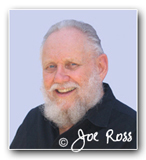 "Of the many ways to trade I've seen over the years, I have never seen a more stable way to take profitable gains from the market."
Master Trader Joe Ross
Understanding the Ambush Method
The idea of Ambush is actually quite simple. As markets became more and more difficult to trade on a breakout-basis using a daily chart, Marco started to look for a way to exploit that reality. The problem was how to get into a market when many traders are "trapped" in their trades, and how to profit when they lose. This sounds tough, but these are often some of the best trades you can get into.
In other words, you'll "ambush" those traders who're buying or selling when it's statistically a very bad idea to do so, at least on a short-term basis. Odds are their trade will fail, and when it does they'll have to quickly get out, or even reverse their trades, which will drive prices strongly into our direction.
This means Ambush is a counter-trend method on a short-term basis. It doesn't necessarily go against the long-term trend of a market that has been trending for weeks, but it does go against trying to get into the market during short-term trends when the odds favor an intraday-reversal. Still it's based on daily charts and you don't need to watch the markets during the day, which makes it a quite unique method. It actually allows you to profit from significant short-term intraday-moves without being tied to the screen!
Simple Rules
Ambush is not a black-box system. Instead, we give you the complete trading rules which allow you to become really comfortable with the method.
This method uses simple, clear rules. They tell you exactly:

At what price to place your limit entry order.
At what price to place your protective stop-loss.
When to get out of a trade.
The exit-rules used by Ambush are very simple. There's no profit target involved, and the stop-loss is only a catastrophic stop-loss. This means that one of the biggest issues of method-development, which is overoptimizing the exits, doesn't apply for Ambush.
You will become a member of a private section where we post the latest set of market suggestions and specific parameters for fine-tuning the method to each market. The fine-tuning is done in a way that avoids over-optimizing the method, and targets robustness instead of performance. This gives us an additional edge in each of very different markets, while applying the same basic method.
Since markets change, we continue to look 2-3 times each year for new markets to add to our list of suggested markets.
Ambush Trading Example
Below is an idea of what an Ambush trade actually looks like.
In looking at the chart below, ask yourself
"Is it possible to successfully trade in such choppy market conditions?"
Daily chart of the Australian Dollar Future (6A, traded at the CME):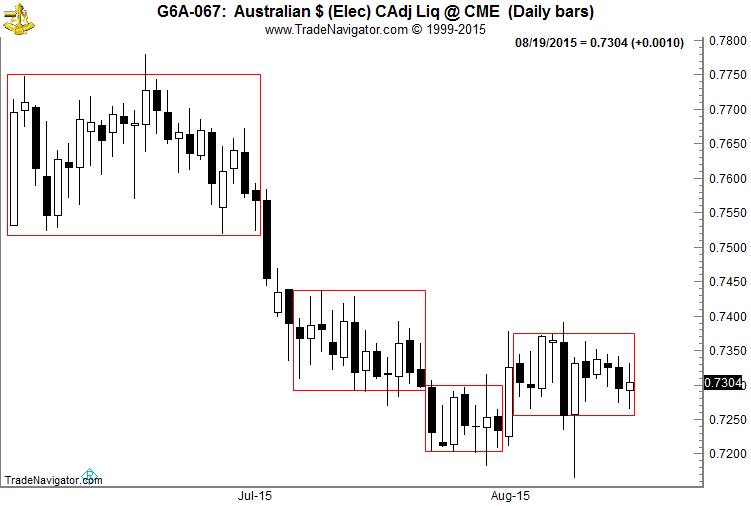 The answer is YES, Ambush can.
This example clearly shows how well the concept of Ambush works in a real market. Notice on how many trades we get in around the high/low of the day, and how strongly prices reverse from there.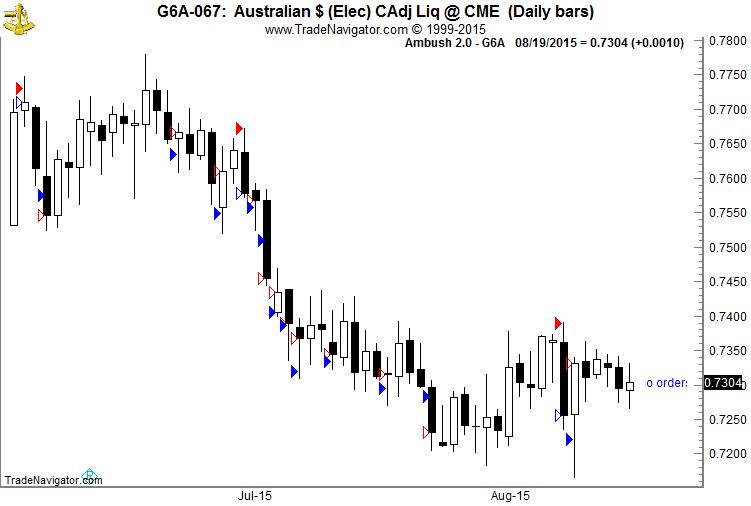 Check out the results of those trades (without commissions):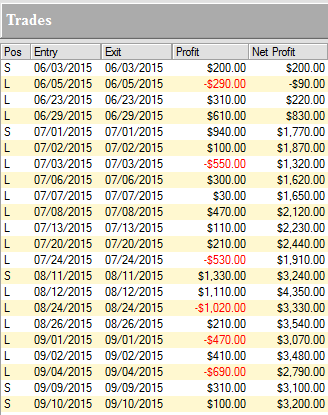 As you can see, Ambush managed to make a total of $3,200 profits.
Don't sit and watch prices intraday all day long in order to make these trades.
Simply place your orders at the beginning of each new trading day,
place your stop, and walk away.


$1,799.00
Ambush Trading Method™ eBook
Performance Reports for the Ambush Trading Method™
The above Australian Dollar Futures example shown represents just a small sample of trades in only one market. It was a very good period for Ambush in that market, and as you know, it is not always like that. While this gives you an idea of what Ambush trades looks like plotted on a chart, it doesn't tell you anything about the actual long-term performance of the method overall.

And while you can trade Ambush in just one market, it's actually better to trade it in multiple markets at the same time. This way your trading will diversify nicely, and give you more robust results and smaller drawdowns long-term.

Look at our detailed reports for each of the markets. Whether you're interested in Futures or Forex.
What you need
All you need to use with Ambush is daily-charting software of the market you want to trade.

Ambush also uses two indicators which can be found in most charting software programs:
ATR (Average True Range)
RSI (Relative Strength Index)
Contact us with quetions regarding Ambush, don't hesitate to get in touch with us!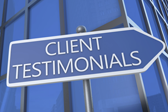 "I have been trading using the Ambush method since August 2014. I have mainly been trading the 3 currencies - 6A Australian Dollar, 6C Canadian Dollar and 6E the Euro. For the last 5 months of 2014 I was making consistent profits on a monthly basis. Trading only 1 lot I averaged a profit of about $2500 a month! In 2015 due to the euro-crisis and other events Ambush so far has been in a drawdown in two of the three currencies I'm trading but I'm confident that once the markets calm down again, Ambush will perform like it did last year. But being the conservative trader that I am, and knowing that drawdowns are normal trading any method, I decided to stay on the sidelines for now to protect my capital...still overall for me the profits so far by far exceed the losses I experienced during the drawdown!" ~ Clive, South Africa
"I like the ambush trading method, it controls the draw downs which I have experienced with it, while also regaining the loses and making money." ~ R.A., U.S.
"The method looks like it is a great one! Is the first time during my 4 years trading experience that I actually made some money!! The only important issue is that it needs to be done everyday in my experience, or to put it better, the order needs to be there everyday, because missing an important big money trade in the month can make the difference with the Ambush; this is what happened to me, when i started putting the orders daily, my account began growing slowly!" ~ Alberto, Italy



$1,799.00
Ambush Trading Method™ eBook
Orders Filled Within 24 Hours*
All Sales Final on Digital Products
*IMPORTANT: Your order will be fulfilled within 24-hours during our regular business hours. If you have not received instructions via email by that time, please contact us, so we can resend it to you. Be sure to check your junk/spam folder before you contact us. All sales are final.
With Ambush Signals, you can now easily follow the Ambush System on a subscription basis for educational purposes.
CROSS PRODUCT PROMOTION
Combine the Ambush Trading Method™ with Stealth Trader™ and receive 20% off your purchase of Ambush-Stealth-Combo!